OFFERS VILLAGE ORBETELLO SEPTEMBER - SEPTEMBER EXCLUSIVE 2021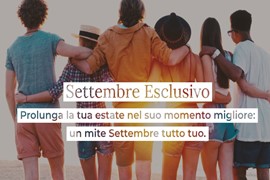 OFFERS VILLAGE ORBETELLO SEPTEMBER - SEPTEMBER EXCLUSIVE 2021
When September comes along we are left with the best parts of the summer: the air is warm, the beaches are quiet, and the resorts still offer the same services!

Starting from €49,00 in total for 2 guests
Swimming pool access
Sport Facilities
Parking
Utilities, initial and final cleaning service
Travel suggestions... 

Explore the Tuscan coastline together with your family. Visit the peculiar coves of the Argentario, with their crystal clear waters and colorful rocks.

A short trip away, the natural hot springs of Saturnia. One should not miss the chance to visit them in September when the temperatures are more suitable for a swim during the sunset.



Offer subject to availability.
DETAILS
Submitted By: VILLAGE IL GABBIANO CAMPING VILLAGE
Valid from: 1 SEPTEMBER
Valid to: 30 SEPTEMBER
Town: Orbetello
Price: €